Share this with Facebook

Share this with Messenger

Share this with Twitter

Share this with Email

Share this with Facebook

Share this with WhatsApp

Share this with Messenger

Share this with Twitter

Share

Share this with

These are external links and will open in a new window


Email

Share this with Email

Facebook

Share this with Facebook

Messenger

Share this with Messenger

Messenger

Share this with Messenger

Twitter

Share this with Twitter

Pinterest

Share this with Pinterest

WhatsApp

Share this with WhatsApp

LinkedIn

Share this with LinkedIn

Copy this link

https://www.bbc.co.uk/news/uk-england-45822780
Read more about sharing.
These are external links and will open in a new window

Close share panel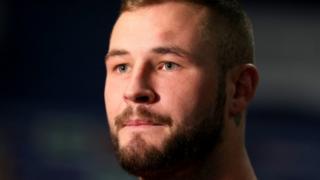 Image copyright PA
Image caption The 26-year-old signed for Wigan Warriors in May
England and Wigan Warriors rugby league player Zak Hardaker has pleaded guilty to drink-driving.
The 26-year-old full-back was arrested in Pontefract, West Yorkshire, in the early hours of 26 September and charged later that day.
Leeds Magistrates' Court heard he attempted to evade police officers by taking his car down a cul-de-sac and running away.
Hardaker, of Pontefract, was given a 20-month ban from driving.
The player, who is nearing the end of a 14-month suspension from rugby for cocaine use and joined Wigan in May, also received a £1,810 fine.
Latest news and stories from Yorkshire
The court heard officers later visited his home, with Hardaker claiming not to have been the driver or the owner of the Ford Fiesta.
He was found to be at more than twice the drink drive limit and told officers he had two gins and six pints.
Nick Hammond, defending, told how the conviction could have a "devastating effect" on the player's career.
His bid to run away was a "very amateurish attempt to avoid the attentions of the police", he added.
A statement from his club at the time read: "The player is co-operating with the police investigation. Wigan Warriors will allow the legal process to take its course."
Continue reading...